How to Choose a Family Lawyer
Whether you are about to marry and seek a prenuptial agreement, are approaching a divorce, or need legal assistance with any family issues in between or even after those points, choosing a family lawyer is a monumental undertaking. It is easy to feel overwhelmed. The decades of collective experience held by the attorneys at Berkman Bottger Newman & Schein LLP have revealed certain truths for any successful lawyer-client relationship. When you are searching for your family, divorce, or matrimonial attorney, keep the following in mind:
Qualities to Seek in an Attorney
When looking for a lawyer, you want to find:
An attorney you feel comfortable working and speaking with, and in whom you have confidence.
An attorney who will explain the process and applicable law to you in terms you understand.
An attorney within your financial means.
An attorney who has a facility with numbers and is financially sophisticated.
An attorney who is responsive to your needs.
An attorney who has available to him/her sufficient support resources (e.g. paralegals, secretaries, associate attorneys).
An attorney who is accessible to you (and promptly returns all phone calls).
An attorney who specializes in matrimonial/divorce or family law and who has in-depth experience in these fields.
Questions to Ask When Choosing a Lawyer
As you narrow your search for legal help, you should ask the following questions of an attorney:
How long have you been practicing matrimonial/divorce/family law in Manhattan?
What, if any, is the extent of your "in court" experience?
Does your firm handle other matters besides matrimonial/divorce/family law? If so, what percentage of your law practice is represented by matrimonial/divorce/family law cases?
Are you familiar with the New York courts and the New York judges?
What are the options available to resolve my case? In my particular situation, which would you recommend?
What is the extent of your support staff?
Who will handle my case? Will it be the partner or an associate or both?
What are your hourly rates?
What are the hourly rates of any associates and/or paralegals who will work on my case?
Will you provide me with an itemized monthly bill?
How do you calculate your billable hours?
If I have a question about my case, can I call you? How quickly can I expect to have my calls returned?
If we are unable to negotiate a settlement and my divorce goes to trial, will your firm represent me in court or recommend me to another firm?
What can I do to minimize my legal expenses?
What do you expect from me?
What documents do I need to produce?
If you need an attorney for your family law needs, contact Berkman Bottger Newman & Schein today at (212) 466-6015.
INDUSTRY THOUGHT LEADERS
DEDICATED TO YOUR SUCCEss
DEDICATED MATRIMONIAL & DIVORCE ATTORNEYS PROTECTING OUR CLIENTS' RIGHTS, ASSETS, & FAMILY
CREATIVE SOLUTIONS TO DIFFICULT & COMPLEX PROBLEMS

All families and marriages are unique - our attorneys take the time to listen to our clients to fully understand the circumstances of their case. Only then do we advise the best legal option for their goals.

PROMPT RESPONSES TO INDIVIDUAL NEEDS AND INQUIRES

Divorce is a time of transition. We understand the emotional and financial stress that clients experience during the divorce process – from day one our team ensures that we provide our clients with prompt feedback so that they are updated on their case every step of the way.

CHOICES AND OPTIONS TAILORED TO EACH CASE

We are one of the only Manhattan divorce law firms offering all three options for divorce: litigation/negotiation, collaborative law, and mediation - providing custom strategies and solutions for our clients.

INDUSTRY THOUGHT LEADERS DEDICATED TO YOUR SUCCESS

Our attorneys provide frequent expert legal commentary for national media outlets and have been quoted in numerous publications including Fox's Business, NBC News, ABC News, CBS News and many more.
WE ARE PASSIONATE
ABOUT WHAT WE DO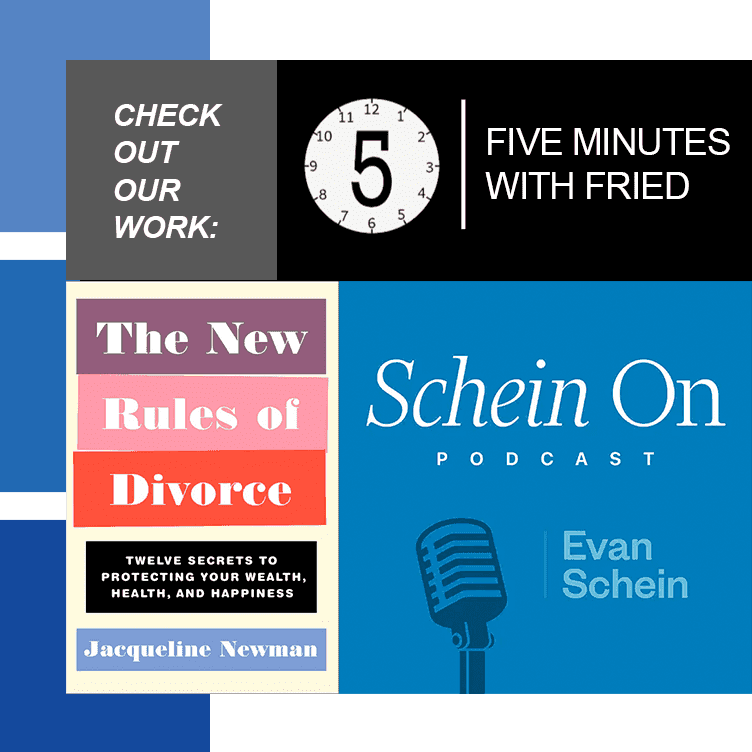 READY TO DISCUSS YOUR OPTIONS?
Call 212-466-6015 or fill out the form below to get started.