We Are Passionate About What We Do
OUR ATTORNEYS PROVIDE GUIDANCE AS THOUGHT LEADERS IN THE FIELD - AUTHORS, FEATURED GUESTS, AND PODCASTERS
Our attorneys at Berkman Bottger Newman & Schein have contributed our professional knowledge and skill in a multitude of areas beyond the courtroom. We have a strong media presence in the legal community as published authors, featured media appearances, and podcast hosts – all in realm of divorce law. There's a reason people come to us for legal advice, and we are passionate about providing accessible resources and professional information to help you move forward. Take a look at all our family lawyers' various accomplishments and features and see why people all over the country have tuned into our legal advice.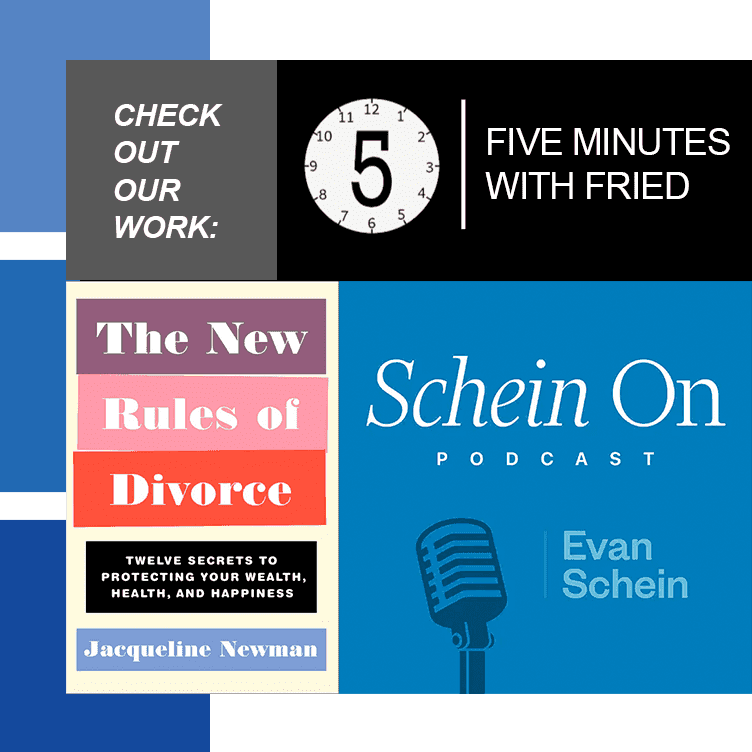 Learn More from our attorneys
THROUGH OUR PODCASTS, BOOKS & ARTICLES
CNBC

9/8/23: Attorney Jacqueline Newman Why Prenups Aren't Just For Celebrities

Court TV

8/28/23: Jacqueline Newman on Court TV Discussing Lindsay Driver

Best Life

8/25/23: Attorney Jacqueline Newman quoted in Best Life Article, "9 Major Red Flags That Signal Divorce, Therapists Say"

Newsweek

7/20/23: Attorney Evan Schein comments in recent Newsweek article "Fury Over Woman Trying to Block Stepdaughter's Inheritance—'Left Homeless''"

The List

8/18/23: Attorney Jacqueline Newman comments on "What Could Happen To Melania If Donald Trump Goes To Prison?"

Newsweek

7/20/23: Attorney Evan Schein comments in recent Newsweek article "Teen Revealing Dad's Secret Affair to Half-Brother Praised: 'The Truth'"
INDUSTRY THOUGHT LEADERS
DEDICATED TO YOUR SUCCEss
DEDICATED MATRIMONIAL & DIVORCE ATTORNEYS PROTECTING OUR CLIENTS' RIGHTS, ASSETS, & FAMILY
CREATIVE SOLUTIONS TO DIFFICULT & COMPLEX PROBLEMS

All families and marriages are unique - our attorneys take the time to listen to our clients to fully understand the circumstances of their case. Only then do we advise the best legal option for their goals.

PROMPT RESPONSES TO INDIVIDUAL NEEDS AND INQUIRES

Divorce is a time of transition. We understand the emotional and financial stress that clients experience during the divorce process – from day one our team ensures that we provide our clients with prompt feedback so that they are updated on their case every step of the way.

CHOICES AND OPTIONS TAILORED TO EACH CASE

We are one of the only Manhattan divorce law firms offering all three options for divorce: litigation/negotiation, collaborative law, and mediation - providing custom strategies and solutions for our clients.

INDUSTRY THOUGHT LEADERS DEDICATED TO YOUR SUCCESS

Our attorneys provide frequent expert legal commentary for national media outlets and have been quoted in numerous publications including Fox's Business, NBC News, ABC News, CBS News and many more.