In Episode 26 of the Schein On Podcast, host Evan Schein spoke with Helen Fisher, PhD, Biological Anthropologist. Dr. Fisher's extensive resume includes authoring six books on the evolution of human sex, marriage, relationships, and gender differences in the brain. She is also a Senior Research Fellow at The Kinsey Institute and Chief Science Advisor to the online dating site Match.com.
The two talked about the science of love, dating and technology, and what people are really looking for in relationships today. They discuss the concept of "slow love," and if there's a secret to a long-lasting marriage.
Did you miss Episode 26 of the Schein On Podcast? Listen here!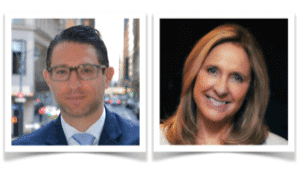 What today's singles want
Dr. Fisher knows a few things about dating trends. A recent study she authored in association with biologist Dr. Justin Garcia, Singles in America, echoes what she told Schein – that today's singles are looking for emotional maturity and stability over things like sex and money. She notes that the pandemic and limited social contact slowed people down. In fact, she refers to this phenomenon as "slow love."
When surveyed about how their courtship and dating patterns changed during the pandemic, Fisher says that the majority of respondents reported forming more meaningful relationships. This is likely a result of having the time to develop mutual self-disclosure, as well as more video dating (which can level the playing field both financially and sexually).
They also discuss how younger adults are waiting a little longer to marry than generations before. Millennials especially tend to focus on getting their lives and careers in order, and searching out partners who've done the same, before tying the knot. Dr. Fisher jokingly calls them the "new Victorians," and says she loves their dedication and commitment:
I am crazy about millennials. I mean, I'm calling them the new Victorians. They invented that term, DTR: define the relationship.
Can you fall in love online?
Dr. Fisher first hit the New York Times bestseller list with her 1992 book Anatomy of Love, discussing the science of human romance, attachment, and sex. She says she would have never predicted the explosion of online dating sites and apps we have today. One of the benefits of technology, she mentions, is that "People of any age can now find people." She went on:
There was an article out of the University of Chicago that said that if you meet somebody on the internet, as opposed to off the internet – not necessarily Match, but anywhere on the internet, as opposed to off the internet – you are less likely to divorce.
Whether or not you are looking for love online, no matter your age, sex or gender, Dr. Fisher reminds us that just about everyone is looking for the same thing:
Someone who respects me
Someone I can trust and confide in
Someone who makes me laugh
Someone who makes time for me
Someone I find physically attractive
As she says, "People just want a companion."
Prenuptials – no longer taboo
Schein mentioned that, although we all want to believe in happily ever after, quite a few marriages do end in a divorce lawyer's office. Is there a secret to getting love and marriage right? Dr. Fisher offers an anthropologic view, noting that in many societies, it takes about four years to raise a child to the point it can be taken care of by a village or clan. She notes the correlation that many divorces take place about four years into the marriage.
Divorce can be an excruciating process for a couple, but a prenuptial agreement can make it easier. Even a decade ago, prenups were considered either taboo or only for the ultra-wealthy. However, Schein points out that, with the new culture of relationship stability, he sees more and more engaged couples recognizing the benefits of these contracts.
Dr. Fisher agreed. She said, "I think every one of us has to deal with the tremendous drive to love and be in a partnership, and also a sort of a drive for autonomy. We all work this one out differently. How many people want a prenup? My last data from Singles in America said that about 36% of singles do expect they'd get a prenup for when they marry."
The science of love
Much of Schein and Fisher's conversation focused on the science of love. "I'm probably most well-known for putting people in a brain scanner who are madly in love, rejected in love, and in love long-term," Dr. Fisher said.
And that brain scanner showed some interesting things. Dr. Fisher explained that originally, there was no plan to scan the brains of people who were in long term relationships, because the assumption has always been that intense romantic love cools over time. But parties in long-term relationships kept coming into Dr. Fisher's lab, saying they were still in love with their partners. Dr. Fisher explained:
So, we decided we put older people – all married, most with adult children – into the brain scanner to see whether they were still in love; not just loving, but in love. And sure enough, we found activity in the basic brain pathways associated with feelings of intense, romantic love.
So, in the end, it seems, the hopeless romantics are right; the science shows that a lifelong love is truly possible.
Find out more about Helen Fisher, PhD.
Follow Evan Schein on LinkedIn, Instagram and on Twitter
If you need assistance with prenuptial agreements or any family law issues, feel free to contact the attorneys at Berkman Bottger Newman & Schein LLP. Schedule a consultation today with an experienced lawyer by calling (212) 466-6015 or filling out our contact form. Proudly serving New York, Westchester, Long Island, and Bergen County, NJ.